The largest 3D model(HVAC) printed one-piece with Farsoon SLS 3d printer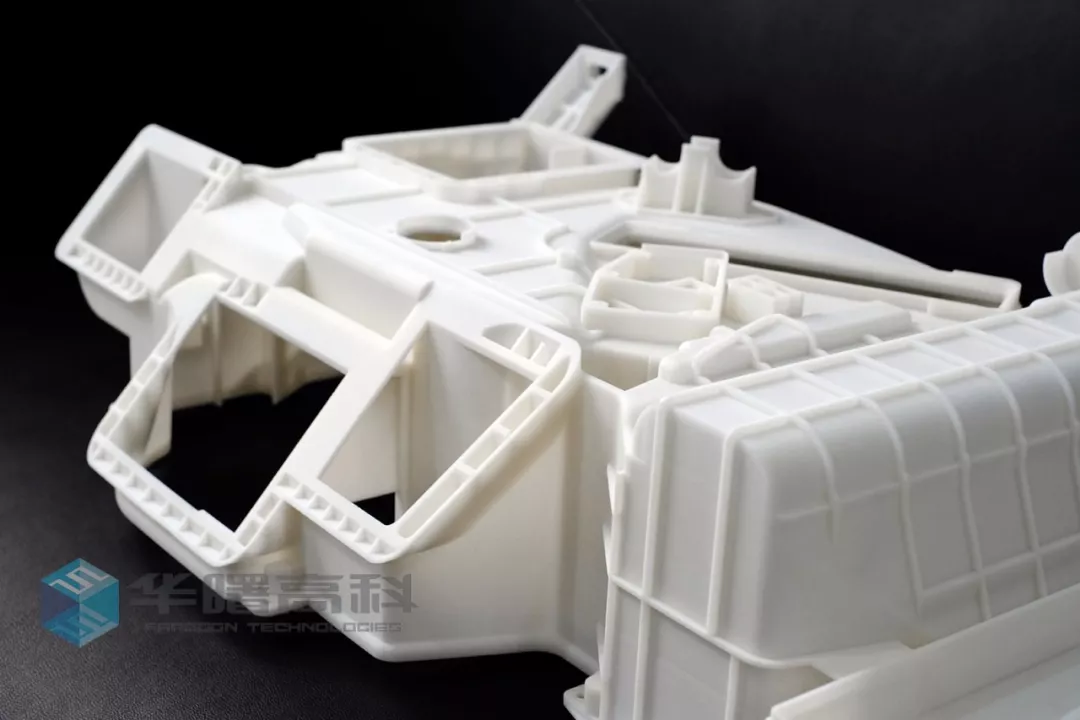 A functional automobile HVAC printed in 10 hours by SLS 3d printing
Rencently, Farsoon technology has worked with a local car manufacture and helped them printed a HVAC system in one piece (shown above) using newly developed FS1001p SLS 3d printer with a production time of 10 hours only. The maximum build volume of FS1001P is 1000×500×450mm, and is compatible with PA12、TPU、FS6028PA(PA6)or similar materials. Normally, a part of this size has to be designed in smaller pieces and then printed and assembled together, wasting time and hindering mechanical properties. The large build size allow major prototyping parts in automobile industry to be 3d-printed in one single piece.
The table below compared the production time of an automobile HVAC model with three different technologies, a part that used to go through tooling and molding which will take weeks or even months to produce can now be manufactured in just 10 hours. 
What is SLS(Selective Laser Sintering) ?
**If you are not yet familiar with SLS(selective laser sintering technology), please watch the video below.**
SLS 3d printer manufacture-Farsoon Technology
Founder of Farsoon technology, Dr. Xiaoshu Xu, used to work for DTM、Solid Concepts、3D Systems and dedicated his research to SLS technology and gained the title "father of SLS technology". Along with 3D Systems, EOS, Farsoon Technology become the third company in the world to produce selective laser sintering printers and the only open-sourced SLS printer brand.  In order to lock-in more profits, most 3d printer companies make their printers bundled with their own materials, just like HP inkjet printers and HP inks or coffee pod bundled with machines. This business strategy make complete sense, however, I believe it really slows down the evolvement of 3d printing industry, which highly relies on the invention of new materials of better properties and prices. Open-sourced 3d printers leave users the opportunities to use third party materials to reduce running cost and the chances to discover new materials.
Interested in SLS manufacturing with Ninjaprototype?
Below is an artistic display printed with Nylon and SLS technology. If you are interested in prototyping functional parts with SLS, send us your requirements and STL files at quote@ninjaprototype.com to get a quote in lighting fast speed.